Two things here: First, the short video by Nicholas Nassim Taleb about the mathematics of risk is good. Second there are Diego Zviovich's linked graphs about VAERS reporting (that is, reporting negative following effects from vaccines).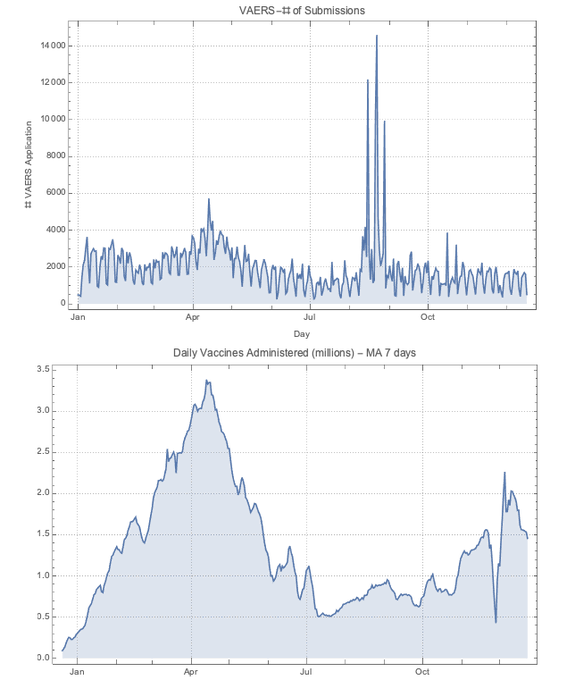 Notice that the number of negative effects reported - a broad category, including everything from a sore arm to death - tracks the number of vaccines given at first. Still pretty small, but it's there. Which is what is sensible and we would expect. Then there is a bizarre spike in late August, when the number of vaccines given is actually near the bottom. What gives? The quickest correlation is that that was the height of the controversy about mandates, when discussions of it were in the air all the time. So there is a very good chance, unless some other explanation presents itself, that the reporting correlates with politics, not health.
There can be a couple of reasons for this. It could be that this is the height of panic, that people are saying "OMG! The vaccine is far worse than I thought! I must tell the other members of the flock!" Social pressure could work both ways on that. People who felt bullied into getting the vaccine might be motivated to say "See! I told you so!" Or they might be surrounded by those who are more vaccine-opposed telling them "You have to report this." OTOH, these are people who eventually decided to get the vaccine who might feel a need to justify that and tell themselves it was the right choice, and so downplay symptoms and not report them. It all may be only because people notice more symptoms when the subject of side effects is in the air. The key item is to note that it was unlikely to be more symptoms.