On a one-year followup, people who had covid have a higher risk of a wide variety of cardiac conditions. Yeah, great. The added risk to those who were not hospitalised seems to be low, but still statistically significant. (And I don't like looking at any of those green bars, thanks.) And of course those who had been in ICUs were at much higher risk.
So when those folks die from those conditions, this year or in five years (but five years early) it won't be "with" covid, because they have supposedly recovered from covid. And their death certificates will not read that they died from it. But you could say they died from it at some level, couldn't you? If covid causes an increase in heart attacks, then some of those people - we can't tell which ones, but some group of people in that pile - had a heart attack they wouldn't have otherwise had.
But maybe we shouldn't count those as "real" heart attacks or strokes, because those people had a preexisting condition: covid. It's the same reasoning...
This is what happens when people make up artificial distinctions to try and evade reality. They back themselves into logical corners with reasoning that seemed good at the time.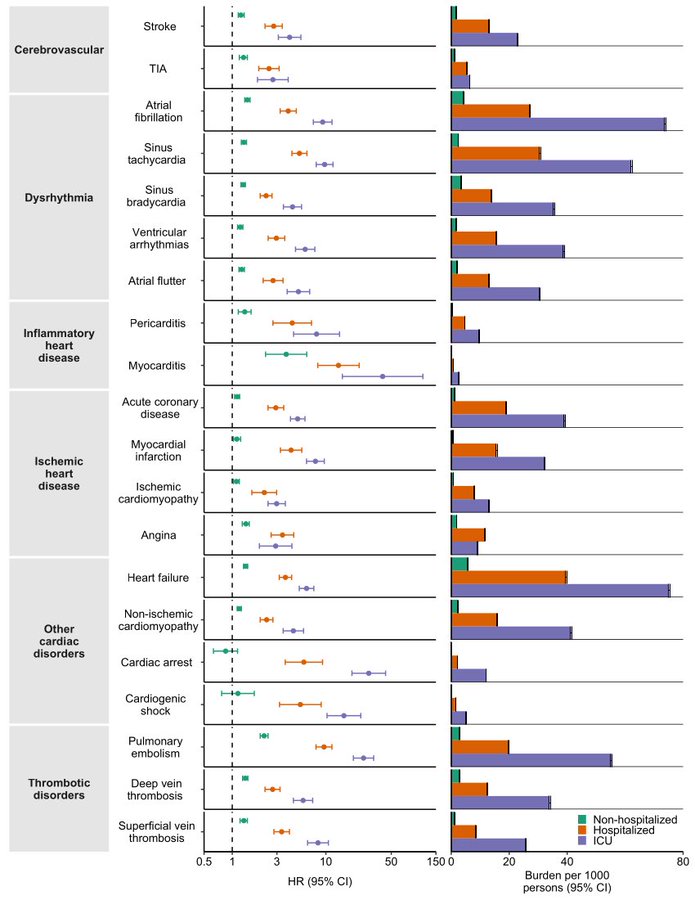 I also know that not only the general anti-vaxxers, but some of the people who think they are confining their skepticism to this illness, who have this happen to relatives or even themselves, will blame something else. "He wouldn't have died if he hadn't gone to that damn hospital!" I am not making this up. I know of this excuse-making happening in people who were in my circle until recently, and have caught more of it second-hand from reliable sources. It will be Anything But Covid, which is why the vaccine dangers are also being exaggerated.