So, it's already coming in. I think I had assumed that polygamy was not much accepted yet but might become so, and played out the thought experiment of what might happen. Apparently I should have checked what is already happening on the ground. One of my sons mentioned a reference to Sister Wives being a large factor, and I don't doubt that (even though I am only guessing from the title what that is - a TV series about the lives of women in polygamous families?), but I think such seeds can only grow in prepared soil. Tinder is not prepared soil, it is fertilizer. The prepared soil is the change that has taken place since 1965 in pair-bonding that is not permanent or committed. It looks like the change is happening already. (Underlying article.) 2010 seems to be a break point, so TV can't be the only driver.
Update: I have had private communications that 2010 is the year for Sister Wives, and also the first year that approval for gay marriage went above 50%. Is this general cultural change, or restricted to the idea of "we don't care who marries whom?"
Update II: Please see the comment about Sister Wives by Kansas Scout below. I was going to reply to zir* there, but thought it worth bringing all the way to the top. This fits with what I see as very typical cult behavior, which so often (somehow!) seems to involve the male cult leader sleeping with lots of women. Because God said so, somewhere. New revelation. It does seem to attract females who seem almost stereotypically culturally conservative (the politics are usually completely screwy and unpredictable), down to their fashion choices and their need to be told what to do. Let me point out for the 100th time that I know know many these socially conservative women and I'm not seeing a lot of "obedience to husbands" in that happening. Like, they decide everything in those families, and their husbands are fine with that because being left alone is a positive. My wife reads my blog most of the time and I don't think I will say more, except to...no, I don't think I will say more. I have known some families out on this obedience fringe, and they do gravitate to religious groups that push that. I have always felt if they didn't have this group of Baptists, they would find that group of Mormons, or whatever. Just my impression, but I'm betting I know more of them than those who usually pontificate about this. And Portlandia illustrates nicely how this isn't just those hated evangelicals. I wish I had remembered this uncued.

The soft polygamists have sown the wind. They will blame other factors, because that is what human nature does. We step away from Western Civilisation, even at a personal level, at peril to us all.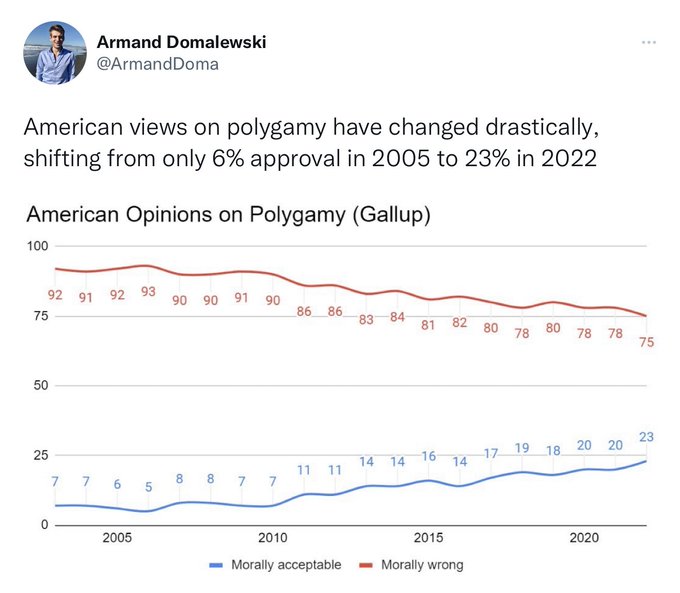 Further commentary on the political meaning - conservative polygamists, progressive accepters of polygamy - is also interesting.
I didn't expect to become the polygamy clearinghouse, but I'm not opposed to it either. I might tire of the topic eventually, but for now it fascinates.
* "Neither can I," said Eeyore. "Joke," he explained. "Ha ha!"