When one answers a Quora question, one gets more requests to answer things on that topic. "As someone who has answered questions about EQ before..."
I generally stay away from political topics, because...okay, you can guess why. I don't handle those well.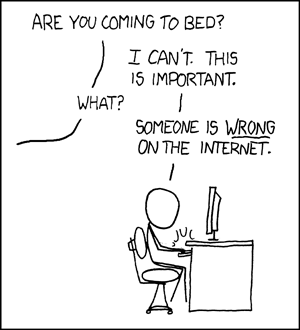 I have also answered Myers-Briggs questions by noting that MBTI results are not stable over time. Other than the I-E, which holds up somewhat, you might score entirely differently 3 months from now - or even 24 hours from now. Therefore, the test doesn't tell you anything. It's just another one of those ways of dividing human personalities into four groups that we love so much.* I do answer IQ questions, but a lot of people want to put in contrast-with-EQ questions, and I have to tell them that EQ is not really a thing. There are people skills in the world, and they have names: getting along, managing, charisma, leadership, understanding, kindness, manipulation, influence, tact. They don't measure well and they certainly don't cluster together and measure any better. People just want to shove that Quotient aspect in there in a sort of scientific envy, that
they
have something valuable as well, maybe even more valuable than IQ. Of course you do. Don't be so touchy about it.
So tonight's question was "Is increasing EQ beneficial to an INTJ - even though the INTJ might resist?" I think it's safer if I just don't answer. Though I am tempted.
*The astrological Fire/Air/Earth/Water; the four humors Melancholy/Sanguine/Phlegmatic/Choleric; Eysenck; Personality Style Inventory; Kretschmer; gold/blue/green/red. Not by accident, but by correct intuition of human nature, or at least Western Culture, did JK Rowling's sorting hat divide the world up into exactly four groups. At least the Enneagram has eleven (or is it nine?) possibles. Credit for breaking out of the mold anyway.