Originally published April 2011. Reposted 2019, #21 on my all-time most-visited list, with over 3000 hits. The many hits over the years must come from NH people looking up Clyde Joy for nostalgic reasons.
I was going to launch into my post about anosognosia, apophatic and cataphatic theology, and all belief as epiphenomenon, but got distracted into country music in New Hampshire instead. Really. That is an absolutely true statement.
These rabbit trails result from living somewhat near the place one grew up. I was on the Daniel Webster Highway North tonight, driving by the place I had my first job out of college.
I graduated in the recession of '75, wanted to return to NH, and was willing to take any job I could get. Apparently people who enter the job market during recessions have some tendency to never recover from that, always selling themselves short and never making as much at graduates in other years. That's true in my case, but also a good thing. I was terribly arrogant and needed to be brought down a few - no, several - pegs. I counted myself lucky to get a part-time job at the Goodnight Motel in Hooksett at $3/hr. The owner's name really was Goodnight - first Fred, and then his son Gary - and their main business was selling mobile homes on the other side of the highway. Marlette mobile homes, I'll have you know. The Cadillac of mobile homes. And they were moving into Yankee Homes (very stylish) and doublewides, 24' x 36'.
Hooksett and the DW Hwy had just started to grow then. A K-Mart and a McDonald's had come in down the road, and the town fathers (or more likely, the town mothers) were trying to squeeze the Sky Ray Drive-In out of showing R-rated movies, which were sorta visible driving by. And not artistic R-rated movies, you understand, but things like
Can I Do It Till I Need Glasses
Tangentially, I learned in searching for this image that it was Robin Williams's first movie.
But at the moment, Hooksett was still pretty much what it had been in my childhood: rural, goofy, poor, uncool. It was definitely culture shock for this North End boy to be working at the no-tell motel attached to the trailer park and mobile home sales lot on the way out of town -
way
out of town - on old Rte 28, headed toward unimaginably backward places like Suncook and Pittsfield. These were not places where anyone you knew lived, but places you drove through on the way to the Lakes Region for vacation.
So I was a clerk at the Goodnight Motel, renting rooms at $12.60 a night (the waterbed room was $17.85) and collecting rents from the trailer park. Goodnight's was apparently where you rented a room for prom night - I hadn't known that, to show you how naive I was, even though my main girlfriend junior year and my junior prom date (different people) were from Hooksett. Had I known, that
second
girl...
Ah, another rabbit trail. You are not going to hear that story.
But by 1975 in NH, mobile home sales were on their way down, and chain hotels were pushing out those uh,
charming
little places along the secondary highways. Fred Goodnight had moved away to Costa Rica*, and his son Gary was trying to keep the various businesses afloat. My knowledge of Goodnight Homes up until that point was that they sponsored the country music show on WMUR every week, with
Clyde Joy and Willie Mae
. (If you are from NH, I really recommend this link, BTW.) Fred was originally from Georgia, so maybe he liked the music, or maybe he liked Clyde, or maybe he just thought it was good advertising to get on local TV. Whatever, Clyde would sing a song to the tune of "Goodnight Irene" every week that plugged Goodnight Homes.
We didn't call it country music then, but Western, or Country & Western, and it was a cowboy thing, not a southern thing. Rural New England had plenty of fans of fiddle music, and actual folk music like Jimmie Rodgers, not any of this new-fangled Pete Seeger stuff. They did accept the whole Hootenanny and Kingston Trio idea even though that wasn't quite the same, because they could at least find the records or see it on TV. But until then, it was Clyde Joy and Willie Mae.
Those of us in Manchester's north end found this humiliating, interfering with our aspirations to be an intellectual, urbane place like Boston or Newport, RI. Maine and Vermont were considered even more backward than us then, and represented what we were trying to escape from. WMUR was the local station, and embarrassing enough in itself, but this Circle 9 Ranch and cowboy hat stuff - in New Hampshire - was beyond the pale. It lasted along time, though.
Ironically, I had become a bluegrass and modern country fan by 1975, via Stephen Stills, the Flying Burrito Brothers, and John Fogerty, but Clyde and Willie Mae were the old, uncool country music - and they were off the air by then anyway.
And now here I was working for these guys. I didn't tell many people. The main office had a little apartment upstairs, where Fred stayed when he was in town, which was hardly ever. The magazine rack had what we called "naturist" magazines then - photojournals of what life was like at nudist camps, an excuse to show naked people. But it was seedy, not like the full-color girlie magazine Playboy, which was quite open about the idea that they were showing pretty girls with little or no clothing. Naturist magazines - I think these were called "Sundial," or "Sunrise," or something -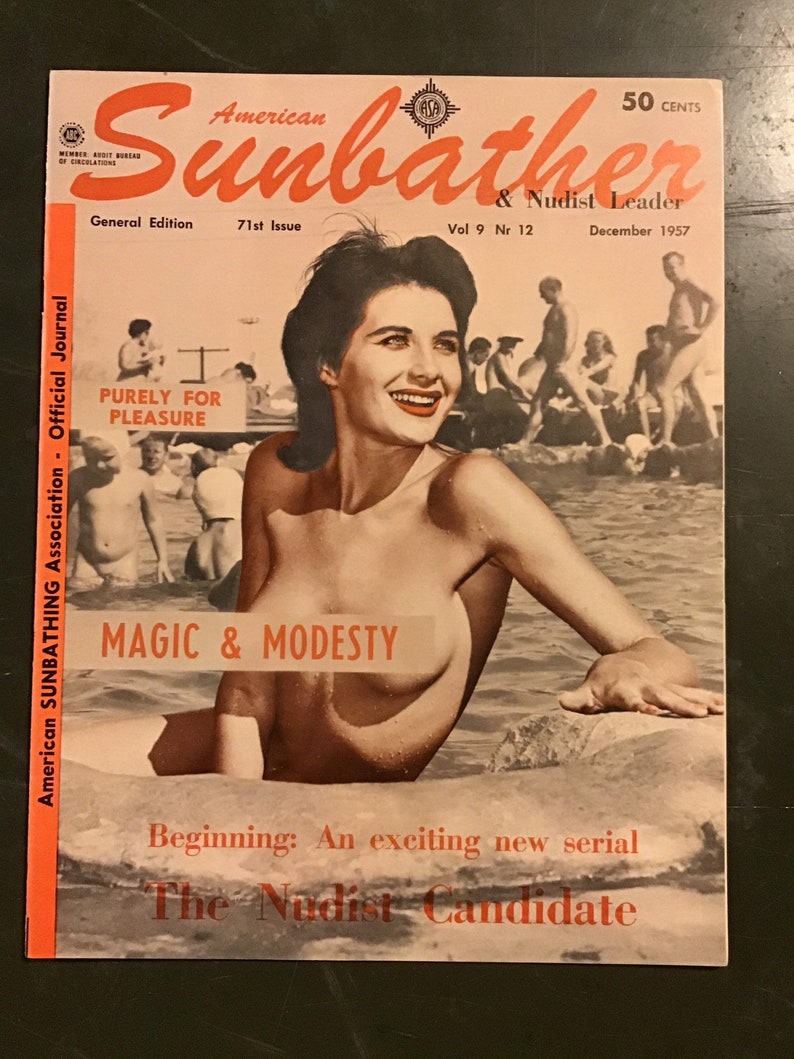 similar to this, anyway - were more coy, like they were reporting on news from nudist camps, or discussions about the future of nudism or whatever.
I was warned about Willie Mae calling. She was supposedly always looking for money from Fred, because he owed her, and there was a wink, wink, nod, nod that there was something else to the story. I absolutely believed that then, but now I'm pretty sure whatever story is true is forever lost. I got a call only once, out of the blue and quite angry "I want to speak to Fred!" I had never seen Fred, no one had told me he was expected, and I quite honestly said I had no idea where he was. The woman told me I was lying, she knew he was in town, and I had better tell him that Willie Mae had called. Well, okay then.
Fred showed up that evening, breezed through the entrance, introduced himself, told a few stories and treated me like I was his great pal from years gone by. So Willie Mae had heard something, more than even Fred's son had heard. I told him she had called, and he waved it away, laughing with one of those laughs that "we men knew what those things were all about." I didn't actually, but I laughed knowingly anyway. It seemed the wisest move, as this guy was probably still the owner and my boss. I didn't dare ask him the story about the bullet-hole in the office ceiling, which apparently dated from his time, but I kept looking at it, trying to subtly remind him of more interesting times. He didn't bite. He went upstairs, turned on the TV, and told me not to set the alarms when I left.
*Something to do with extradition, I heard. I was instructed never to tell
anyone
when Fred was back in the US.