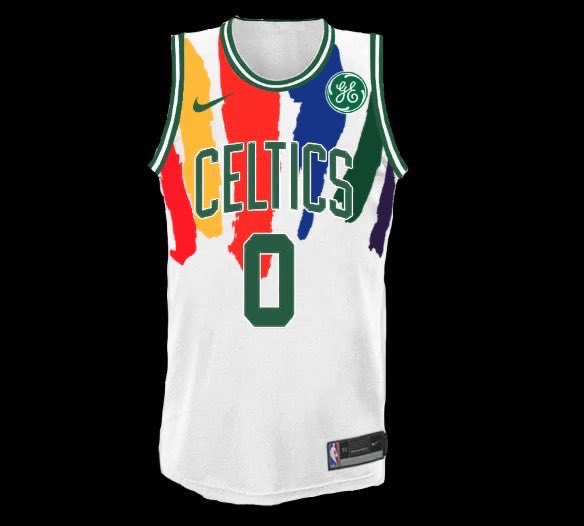 This was proposed - semi-seriously, I assume - as a new city jersey for the Boston Celtics. All sports teams are getting into multiple jerseys, hats, etc, because they sell very well. The NBA is in this with all four feet, and City Jerseys are a big seller now.
The design is immediately clear to anyone who has spent much time going through Boston, but likely puzzling to everyone else. It is drawn from a local iconic public symbol going out of Boston on I93 S.
It is an art piece from the 1970's by a woman who came to be known simply as "Corita." She had previously been a liberal-activist nun,
Sister Mary Corita Kent
, at a liberal-activist convent in California (this is where my previous knowledge ends and I had to start looking things up) who had become well-known in the art community for integrating everyday objects as high art. She taught art at Immaculate Heart college and was a memeber of the Immaculate Heart of Mary community. She returned to secular life in 1968, as her Roman Catholic hierarchy did not like her political-over-religious activism, and her cardinal went so far as to call the order communist.
The most common bit of controversy is the profile of Ho Chi Minh embedded in the design. You can see him in profile on the left side of the blue swath. Corita stated this was not so, and because there is sufficient ambiguity in any design of this sort, her defenders always sneered that it was not proven and it was only ridiculous people (not-liberal people) who were paranoid and condemning and overreading such a thing. She had plausible deniability. Even now, people will treat you as some sort of kook for even suggesting such a thing.
She was non-violent. She was in favor of peace and love and justice, which were all over her art work. You, you evil person, are equating being antiwar with being communist.
Granting that in such swaths of artistic stroke it is always possible that accidental resemblances creep in - Fred Flintstone is supposedly in the yellow somewhere - I think it is in fact obvious that it's Ho Chi Minh. Look at the question not from the you-have-to-spike-the-proof-to-the-center-of-the-earth position, but from the other side. All of her work was cultural and political commentary. She was not the artist who said "I just thought it would be pretty to have some bright colors out there for the public to see." There is nothing in her history that fits that. Therefore, there is commentary in there somewhere, because that is what she did always, every time. If it's not Ho Chi Minh, what is the bit of popular culture she is integrating into her work? Keep looking. Yeah, that's what I thought.
Secondly, artists tend to to look at their work pretty closely, and make adjustments if something is undermining their message.
Third it's 1970's Massachusetts, which had plenty of people who just loved the chuckle of "MMpf. She smuggled in a picture of Ho that all those conservative bastards will have to look at
every day
when they drive. Priceless."