According to Ben, there's a new TV show called "Hank" with Kelsey Grammer. There was an
old show called "Hank"
in the mid-60's. It was about a college drop-in trying to go to school for free. I'm one of the few who remembers it, apparently.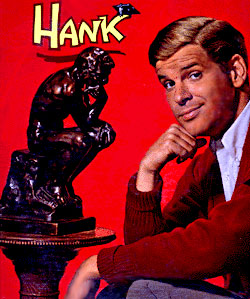 He's up with the sun, and he's got the college ringin'
As he goes about another swingin' day.
With jobs to be done or errands to run
He's A Number 1 okay.
He'll dry clean your coat, be a butler or a porter
If it means another quarter in the bank.
He'll get his degree, his Phi Beta key
And get 'em both for free.
That's Hank!
Sad ending, it seems. Dick Kallman, who played Hank, was murdered by a drug addict in the 70's.