I lost The Little Drummer Boy Challenge on December 5 this year. I went to a Mannheim Steamroller concert, and of course it was on the bill. I should have seen it coming.
I was even more annoyed because their version, including the accompanying video, was so poor that I could not even get any enjoyment to compensate. However, analyzing
why
it was so poor revealed to me a good deal of why the entire concert was disappointing, so it gave me something to think about, and now write about. So I think it's a fair trade after all.
They have not updated the arrangement since 1988. They have not updated any of the arrangements. This may not be bad in itself, if you created a classic the first time or got exactly what you wanted. That's not likely when it's every song. Now, it just sounds like they're stuck in the 80's. The world did not go in the synthesizer direction. Chip Davis was creative, with unusual arrangements of older music - lots more drum, synth, bass, and percussion than we were used to. You liked it or you didn't, but it was an attempt at something new. Now they've added a Genesis-style light show and some mostly-irritating videos to musicians performing their CD tracks.
"The Little Drummer Boy" video was about a toy drummer,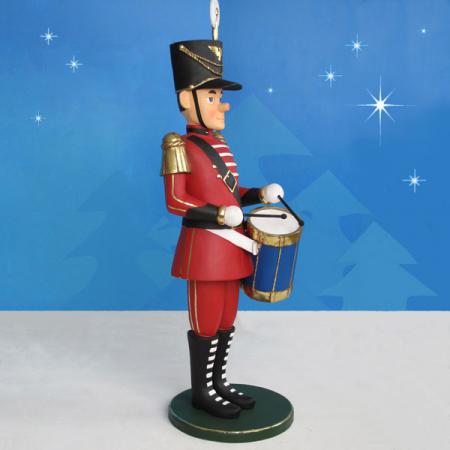 plus a lot of other Christmas toys being woken up to dance and play at night after Santa's elves have gone to sleep.
Ah, so you didn't actually listen to the lyrics, then, did you?
Davis has always been a bit strong on the Magic of Christmas nonsense and sentimentality, yet I did think there might be something Christian in there. Listening to the 1988 version in that context, with its mechanical effect, it is clear that a toy drummer was his intent from the start. I'm surprised I never noticed it before.
"God Rest Ye Merry, Gentlemen" has this video of a guy in medieval costume saddling up and then riding a horse across fields. Hard, as if on some errand. This made no sense. I eventually decided that it was merely a superficial response to the archaic phrase in the title.
It's medieval, doncha get it? So we have this medieval guy.
This was confirmed when the video ended at a moated castle, with a baron and baroness waving behind the parapet. When Chip Davis's daughter Elyse sang "Greensleeves," she had green sleeves. Nothing in her vocal or facial expression showed the least connection to the lyrics. "Angels We Have Heard On High" had this journey through space with ethereal angels in diaphanous gowns looming up repeatedly on the screen, reminiscent of
Star Wars - A New Hope
just before they would go into hyperdrive. Passing planets on the way, too close together. "Carol of the Bells" had these vaguely demonic modern interpretive dancers arranged on the screen - very 70's choreography.
There was some non-Christmas music as well, very space-and-light-show, techno sound. To which I can only say
far out!
We were about average age for the concert audience, maybe even a bit young. Chip Davis is the Lawrence Welk of our generation.